Learn the Value of Remodeling your Bathroom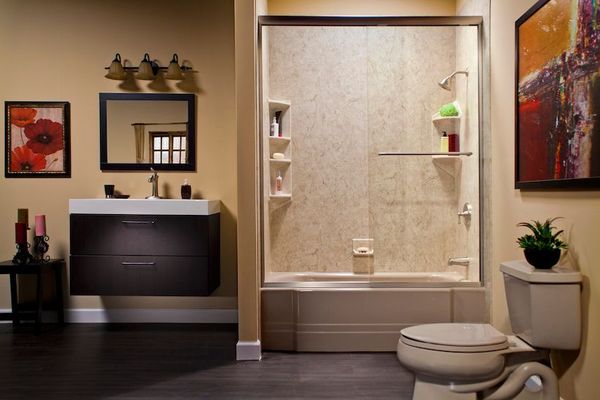 Does remodeling your bathroom really increase the value of your home? Quick answer...YES! It is a well-known fact that investing in bathroom and kitchen remodeling can significantly enhance the value of your property. Let's face it, these rooms are undoubtedly the most important parts of our home given that they hold the majority of our day-to-day activities — apart from sleeping of course!
The bathroom is the room where you as a homeowner can significantly improve the value and attractiveness of your home. Professional experts have estimated that a newly renovated bathroom can increase the value of your home by seven to ten percent. Taking a moment to do some simple calculations, let's say that your home is worth approximately $100,000. If the value of your property increases by 10%, its new appraised value would become $110,000! When you invest $10,000 with Toledo New Bath, we have the ability to create an incredible bathroom for your home - and it's a total win-win! Not only will you get to experience a beautiful bathroom of your own making but also increase the value of your house by that same amount. So essentially, you're getting two benefits for one investment; as they say: double trouble (in terms of good things!)
When you watch The Home Improvement, why do you think the expert remodelers and designers spend so much time on the bathrooms? The rationale for this is clear - a newly remodeled bathroom, with its modern design and aesthetic appeal, boosts the value of your home significantly and makes it more likely to be purchased. It's a fact that many smart home sellers have called on Toledo New Bath to give their bathroom an update before putting it up for sale. After all, modernizing the space and keeping it clean will certainly help when trying to attract potential buyers! We also receive many calls from realtors who have homes listed and want those bathrooms improved. These professionals are experts in home valuations, and they know that the installation of a great bathroom will not only increase the value of a home, but also make it easier to sell.
If you are considering redoing your bathroom and wonder if it is "money well spent", it absolutely is. But don't take our word for it; listen to the experts! We believe that the historical results and knowledgeable opinions have spoken...spending money on remodeling your bathroom IS " money well spent"!
Call Toledo New Bath at 419-389-9950 to get a FREE, no-hassle estimate or stop in to one of our two showrooms to visit with one of our design consultants.
We can't wait to help you create the bathroom of your dreams!