Visit Toledo New Bath On Reynolds Road In Toledo

1,600 Square Feet & Many Fixtures

Full Bathroom Remodelers In Toledo
Reynolds Road Showroom
Locations:
2503 North Reynolds Rd
Toledo, Ohio 43615

Hours:
Monday-Friday: 9-4
Saturday: 9-12
Conveniently located in south Toledo, Toledo New Bath & Kitchen features a full product showroom where you can view all of the products we offer for your bathroom remodel. From fixtures and mirrors to vanities and liners, we have it all for you to see, feel and experience at our Reynolds Road location.
Our sales consultants can work closely with you to create a bathroom you will love for years to come.
Please call Lori at 419-389-9950 for more information or email Info@ToledoNewBath.com.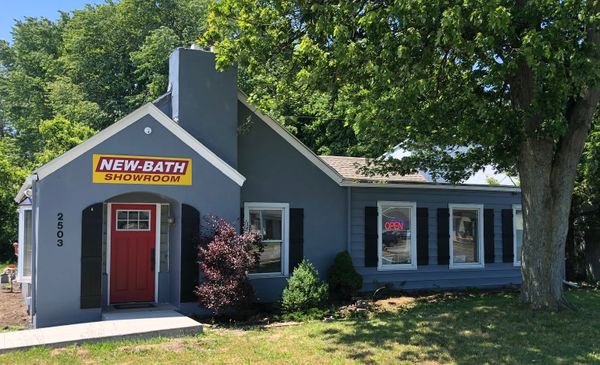 Good News! We've successfully moved to a new location!
Come visit us at 2503 N. Reynolds Rd. and see our new better access showroom with many different displays. We offer many choices on safety features, such as, grab bars, safety seats, conversions, walk-in tubs.
Stop in and visit Linda who is always smiling and willing to assist you. She is our Senior Safety Specialist and can answer any questions you may have on bathroom safety.
Matt, our friendly, knowledgeable, salesman who will come to your home and talk with you and assist you for any of your bathroom needs. We are here to help seniors stay in their homes where they can feel comfortable and safe!
Since moving to our new location, we've seen an increase in customers visiting us. Many people are looking for ways and advice on how to stay in their homes and remodeling of bathrooms are their first priority!
Toledo New-Bath is always looking for ways to improve and expand to meet all of our customers needs. One of the strengths of Toledo New-Bath is we are local and have two showrooms where you can come in and see and try out our products. We offer anything from walk-in tubs and walk-in showers, to tub liners and various toilets and vanities, grab bars, safety seats, in a variety of styles and colors.
Another strength our customers like is Toledo New-Bath installers all work for us and are local. Customers needs come first. That is why we offer two showrooms where you can actually come in talk to our specialists, see the products and sit in the tubs and have the whole bathroom experience before making any decisions.
So come visit me at our new location on Reynolds Rd. and see and experience for yourself the great customer service we offer all our customers with a friendly smile and greeting, waiting and willing to meet all your bathroom needs.