Visit us at our conveniently located showrooms or contact us to take advantage of our free ideas we have to offer!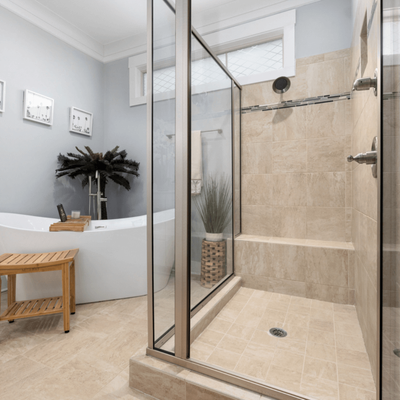 Newly Installed Shower
Did Someone Say "FREE"?
Everyone likes free! If you are currently thinking about remodeling your bathroom, please call Toledo New Bath. Our sales consultants, sales manager, installers and showroom experts have a combined 75 years of bathroom experience. And here is the best part of it…we will advise you, make suggestions and give you decorating ideas for FREE! You know the old saying, "The best ideas and thoughts are not original, they are all borrowed from someone else." Use our ideas and experience to design and redo your bathroom for FREE! Call today!
Need An Idea? We Hand Those Out For Free! 
Bathtubs, shower bases, conversions, walk-in tubs, grab bars, we offer them all. All of our "wet area" products are made out of acrylic. Acrylic is the most durable bathroom material. It is guaranteed not to chip, crack or stain. Acrylic is far superior to fiberglass. Fiberglass chips, cracks and stains. As a matter of fact, fifty percent of our business is replacing fiberglass "all-in-one" units. Sure, fiberglass units are less expensive or cheaper, but you get what you pay for. Also, most bathrooms done in fiberglass need to be replaced within five to ten years. Our acrylic is manufactured here in the United States and is the thickest, most durable and best quality made. We offer BCI acrylic products, as well as Sentrel products in many, many colors and design patterns. Working with one of our sales consultants, you will be able to design a clean, sanitary and modern look for your bathroom for years to come! We were the first to offer tub liners, bath fitters, tub shells, and rebath's in Northwest Ohio and Southern Michigan. We have over 50 years experience!
We Can Do It All!
We can do the "entire" bathroom! Our competition only offers to redo the "wet area", but we do it all. We can do flooring, where we offer very competitive pricing compared to Lumber Liquidators, Home Depot, Lowes and Menards. Our floor is water resistant and perfect for your bathroom. We offer toilet replacement and installation. We use Kohler, American Standard and Mansfield products. We specialize in "comfort height" and tall toilets. This has been a very popular item in bathroom remodel. We also offer grab bars for safety. Grab bars assist seniors in the safety of their bathroom. Safety bars come in a variety of lengths and styles. Bathroom vanities can really make your bathroom beautiful. Our vanities and tops are all custom made to fit your bathroom and desires. We also offer accessories for all of your bathrooms. Said accessories are manufactured and designed by Kohler, Delta, Toto, Craft 33, Moen and many more. We can also design and install shower doors. We have our own line of shower doors, but we have partnered with a Toledo company, Splendor, to provide a greater selection and more options for your shower door selection. We can also assist you in painting, drywall installation, drywall repairs and minor plumbing repairs. We try to make your bathroom project a one-stop shop.
Why Choose Toledo New Bath?
In summary, we do it all. We have been around for over 50 years. We are local, with two convenient showroom locations. We use the best quality products in the industry and we have the lowest prices! Call today for a free quote or stop into one of our two convenient locations!