Benefits of a walk in tub
We know walk-in tubs enhance safety by allowing you to bathe independently and privately, but there are several other advantages in having one in your bathroom you may not have considered before.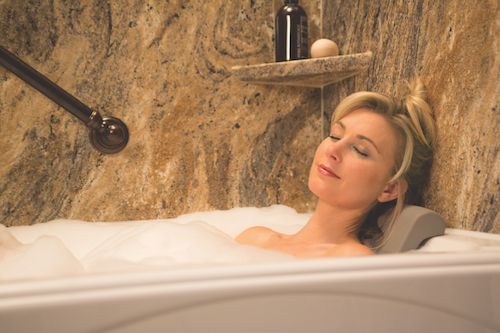 What is Hydrotherapy?
Hydrotherapy is a natural and holistic treatment option that, by immersing your body into hot or cold water, is able to treat many symptoms that includes: stimulating circulation, detoxifies blood, enhances your immune system, improves digestion, reduces inflammation and much more! For thousands of years people from around the world have benefited from the healing power of hydrotherapy, now you can too in the comfort of your own home in one of our quality walk-in tubs!
Use hydrotherapy as a reliable and affordable home remedy for treating the symptoms of today's most prominent ailments including:
We have a wide variety of walk-in tubs with different comfort and safety features that can help to provide relief from everyday aches and pains or symptoms of:
Arthritis

Circulatory disease

Insomnia

Diabetes

Stress

Rheumatism

Fibromyalgia

Lower back pain

Headaches

Muscle stiffness

Poor circulation

Sciatica

Tension

Tendinitis

Varicose veins

Anxiety

Glaucoma

Skin conditions like Psoriasis or eczema

Stiffness

General muscle or joint pain
These ailments affect the lives of millions of Americans everyday. However, bathing in a therapeutic walk-in tub can help you find relief from such debilitating conditions.
Warm water therapy enhances your body's healing by dilating blood vessels and increasing the blood flow to damaged areas. When submerged, your body weight decreases by up to 90%, which relieves pressure on your joints, allowing your cartilage to decompress and promote the much needed repair. Just soaking in a warm bath
Walk in tub for Heart Health
For many people who are trying to improve their heart health, exercising is not easy. Warm water immersion in one of our high quality walk-in tubs is a more comfortable option that puts much less strain on their heart. Just soaking in a warm bath increases your heart rate while lowering blood pressure, which provides cardiovascular benefits similar to those you may get from a cardio workout.
Walk-in tub for sleep disorders
Many Americans struggle with falling asleep at night, whether it's from a sleep disorder or daily stress and pain. Instead of taking taking sleep aids, there is a safer, more natural solution. Our walk-in tubs promote a healthier sleep by using therapeutic air or whirlpool hydrotherapy jets to combat pain from ailments and everyday stress. By taking a twenty- minute bath before bed in one of our walk-in tubs naturally puts your body in a state of relaxation and sleep readiness.
Walk-in tubs for stress
Hydrotherapy helps to heal your mind and body in many ways, which is why our high quality walk- in tubs can help with pain and stress relief.
Ready to start shopping for your new walk-in tub?