What to look for in a walk-in tub
A guide to choosing the right walk-in tub for your needs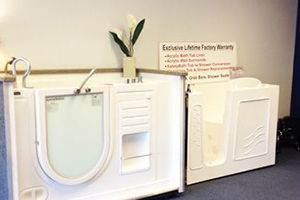 Walk-in tubs can bring new style and comfort to your bathroom, as well as an added safety measure for those who are aging or have disabilities. But knowing the benefits of a walk-in tub is one thing, deciding when the right time to purchase one, and which walk-in tub is the right fit for you is what we are discussing today.
We know remodeling your bathroom is an investment, so at Toledo New Bath, we put together some tips to ensure you get the long term value you're looking for. Fortunately, all of our products are built for life. That's why we stand behind them with our lifetime warranty, which includes everything from the tub to the installation. Below we have simplified some of the decision-making process, and answered some of the Frequently Asked Questions we get in our showrooms.
How to choose a walk-in tub with features best for you
Be sure the walk-in tub models you are looking at will be a good fit for you. A quality walk-in tub is built with safety features that help you bathe safely, comfortably and independently. To make sure you're able to get a good feel for the placement of these safety features, you may want to visit one of our local Toledo area showrooms.
What to Consider when buying a walk-in tub
A walk-in tub is an investment you'll enjoy for years to come, so it's important to get the exact features you want. Look for available options from self-cleaning and sanitizing jet systems, therapeutic air or whirlpool hydrotherapy jets, to quick filling premium faucets and quick draining features.
Ask yourself all the ways a walk-in tub will benefit you, and what short and long term value you will receive as a result. A waterproof seat cushion, easy reach controls, aromatherapy and chromotherapy are also great additions that add extra comfort while you are relaxing in your new walk-in tub.
At Toledo New Bath, we pride ourselves in offering the best features for the best prices. All of our high quality walk-in tubs are ADHA compliant, quick draining and come with a lifetime warranty. We also have senior safety specialists available at our showrooms to walk you through the entire process and help you pick the right walk-in tub for your needs.
The best walk-in tub size and door options
The average bathtub measures at 60 feet long and 32 inches wide. When updating your bathroom, it's important to consider whether you want your new walk-in tub to be installed right where your current bathtub sits, or if a different size or design will better suit what you're looking for.
A lot of our walk-in tubs are conveniently manufactured to be installed where your current bathtub sits, but we do offer many sizes and design configurations to ensure you get the personally customized bathroom of your dreams! Visit one of your local showrooms in the Toledo, Bowling Green and Finley area to help you get a better idea of the size and design that will best suit you.
The sealed doors on a walk-in tub help give you added stability so you can easily enter and exit it, as well as keep all of the water contained. Inward swinging doors are most common as the pressure of the water helps keep it sealed to avoid moisture on the floor, but must be fully drained before unsealing.We offer many outward swinging doors as well that have a latching mechanism to make them watertight, and can be quickly opened in an emergency without the tub first being drained. You might also want to consider our other options like extra wide doors, textured slip resistant floors, an ultra-low step-in profile or wheelchair accessible safety bars.
Ready to shop for your new walk-in tub?