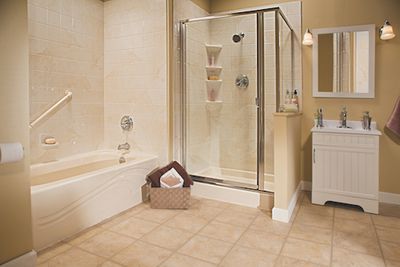 What Are the 5 Most Important Questions to Ask When Hiring a Bathroom Remodeler?
1. What type of experience does the contractor have remodeling bathrooms?
Here at Toledo New Bath, we and our predecessor company have been in business for nearly 50 years. In addition, our installers have approximately 75 years of combined construction work experience. We have installed and remodeled over 5,000 bathrooms. Give Toledo New Bath a call before hiring "Chuck in a truck" or "Larry with a ladder." They may or may not know how to install your "Bathfitter" or tub liner.
2. Do they use acrylic or fiberglass?
Acrylic is the latest and greatest bathroom material. Our acrylic is produced in the USA and guaranteed not to chip, crack, or stain. This is covered by a lifetime warranty. Although fiberglass looks good at first, it is less durable than acrylic. It WILL chip, crack, and stain. Most of the jobs we do now are replacing fiberglass bath units installed 10-15 years ago.
3. Are they local?
Over the years, we have learned that sometimes a follow up visit is necessary for certain jobs. We have a dedicated service team to take care of our customers needs. If you call a national company on a 1-800 number, what are the chances of even talking to a person, let alone getting your questions answered? Buy local and experience exceptional customer service.
4. Does the product fit your needs / solve your problem?
We sell you what you want and what solves your problem, not whatever makes us the most money or sales commission. Our sales consultant will bring in samples and sit with you to put together a bathroom solution that fits YOUR needs. This is seen with our many satisfied customers who have referred us to their friends and family. At Toledo New Bath, we take the time to find the right solution for the right customer.
5. Do they have a local showroom?
We have two local showrooms for you to check out before purchasing. Our goal is that you find assurance in what you purchase, prior to your actual purchase. Although it may be easier to sell out of a catalog, we think it is important for you to feel the material, sit/walk in a tub, inspect a "Bathfitter" or tub liner, and be certain you feel satisfied with what you get.