Toledo New Bath Reviews
Thousands of Customers Can't Be Wrong, Read Testimonials Below:

My wife and I recently had a walk-in shower installed in our guest bathroom and we wanted you to know how much it adds to the beauty of our home. I broke it in a couple of days ago and the safety bars and the seat have already been helpful to me personally.
I'd really like to address the issue of the installer, Justin. First, I couldn't believe he could remove the old tub and shower combination and install a new shower in only two days. I thought a plumber would have to come in and work with the installer. Wrong! Justin is multi-talented and expertly performed the plumbing installation as well. I am impressed!
While Justin was working, we had a chance to visit and he is a very bright young man. I spent 45 years as an educator, both at the high school and university level and Justin and I agree on what children should be learning today. I love the fact that Justin shared with me how he interceded on his daughter's behalf while she was in elementary school and challenged her teacher about how they were teaching mathematics.
The quality of Justin's work is beyond belief. I know he works for his client exactly the way he would want someone to work for him. If five stars is the top rating, I give him a ten star rating. To say that we are impressed with Justin is an understatement.
Roanne and I appreciated his sense of humor as well as his intelligence. I told Justin that I didn't know what kind of money he was making at New-Bath, but whatever it was, he needed a raise! He got a laugh out of that, but I was serious. Justin is a GEM and I hope his boss realizes this too.
Thanks again for the New-Bath experience with Justin!
Respectfully,
Lannie & Roanne K.
My experience with Toledo New Bath was efficient, seamless, and professional. An unexpected medical issue forced an immediate need for modification of a first floor bathroom and Linda Anderson and Matt Shields exceeded my expectations. Both recognized the urgent situation and responded to my emergency. Despite having no prior relationship, I felt like both treated me like a family member. The bathroom was quickly and professionally completed. Without hesitation, I recommend Toledo New Bath to anyone looking to enhance or modify a bathroom space!
Amy B.
I am pleased to have my bathroom remodeled by Toledo New Bath. I converted a tub into a walk-in shower. Linda Anderson is very knowledgeable about bathroom safety and the products they offer to make a safe environment in our bathroom.
Matt, the sales rep, was helpful with all the details of the bathroom remodel. Gave useful suggestions and provided professional solutions for our project and did not pressure us into any unwanted projects but suggested things that would be more economical.
Keith and Chris, the installers, were great to work with. The job went quickly and smoothly. They did an excellent job. Don, the painter, was very detailed and did a good job.
I would give Toledo New Bath a 5 star rating.
Denise M.
We loved dealing with Toledo New Bath! Linda Anderson at the Reynolds Road store was great, listened and was able to guide us. We met with Matt who took our order, explained everything to us and helped us come up with what we wanted, and had it affordable! They sent their crew in early to do the work and they were super professional. And kind. When my cat decided to hop between the new tub and wall, they were patient with us, and Chester the cat, getting him out. Ultimately, they got him out! They finished everything beautifully and we are satisfied with the work and quality, and professionalism!
Katie & Michael V.
The thing I liked best about Toledo New Bath is their location near me.
Beth G.
We appreciated being able to see at the showroom near us what we were getting and the good work of the installer, Russ.
Jack & Diana P.
Our installer, Justin, was very informative and hard working.
Bill H.
The salesperson was so convenient, it's like he lived near me!
Stefanie S.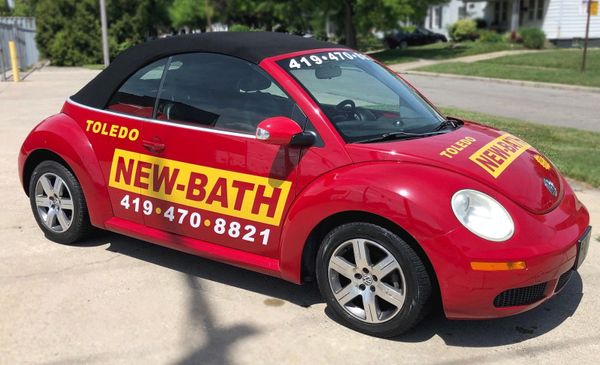 I am very happy with the results from start to finish. I started at the showroom near me where I got an idea on what I wanted and completed it at my house with Paul. My installer was excellent; he explained every phase for me and did a great job in all phases of the installation, including clean-up.
Bob V.
They did an awesome job converting our tub/shower combo into a walk-in shower. And all in one day! It's BEAUTIFUL! We couldn't be more pleased!
James & Pamela L.
Linda Anderson is such a joy to work with and talk with. She's very informative and helpful! Paul does a great job in the field bidding appointments!
Katie L.
We are very happy with our walk in shower. We were able to go to the showroom near me and pick out the color and exactly what we wanted. The staff and installer were great.
Jack and Diana
Toledo new bath is the best place for remodels. The service is wonderful and the products are top notch. Linda Anderson personally made me feel very welcome. Thank you so much for all the help you provided!
Brittany H.
Toledo New Bath did an AMAZING job on our bathroom! They came out to our home and gave me a great price. I will use them again!
Corey B.
Excellent sales Personnel, courteous and professional. High quality products, installed in a timely manner professionally.
David W.
I am very happy with the results of my bathroom. The salesman and the installer were very professional. I would recommend this company to anyone.
Ruby R.
Toledo Newbath was wonderful to work with. The Shower is perfect for us to get in and out easy. It looks Beautiful!
Chrissy B.
Newbath took very good care of my parents. They were very happy when the work was completed. The installer was very neat and professional.
Deb Y.
They have a great team at Toledo Newbath. The salesman was so helpful and the installer was quite professional. We so appreciate both of them.
Joan and Tom E.
We were so pleased with the work the installer did on our bathroom. A #1 job well done. We are very happy with the Newbath Crew.
Ken and Judi M.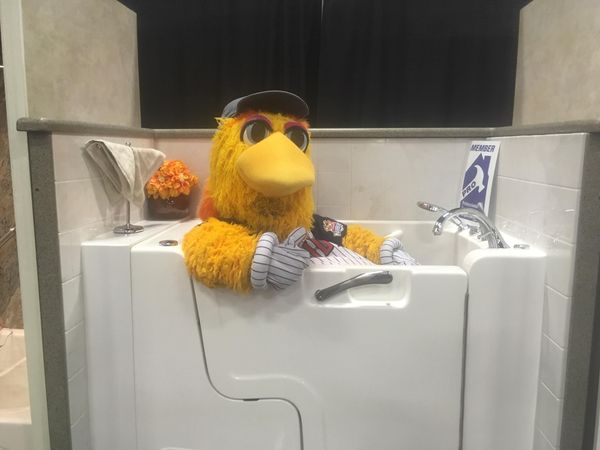 Muddonna's Preferred Bathroom Remodeling Specialist!
A job well done by your installer and the whole Team at Toledo Newbath! Friendly , Cleaned up, efficient, excellent workmanship.
Dave and Carlene C.
Salesman was great to work with. The installer was an excellent worker. We will be happy to recommend this company to anyone.
Dave and Joan W.
Dear Kurt:
I am writing to express our complete satisfaction and appreciation of the tub-to-shower conversion you did for us at 2016 Firlawn Dr.
We were particularly impressed with the professionalism, workmanship, and courtesy of Alvin Pytlarz – the installer who did the work. He kept our house as clean as possible during the construction – putting tarps on the carpeting and floors and cleaning up the job site at the end of each day. He did not rush to get the job done and made sure we were satisfied. He even took to shovel the snow from the sidewalk.
Sincerely,
David J. P.
Thank you Kurt,
I will highly recommend you to all I know! I'm glad you and I resolved this problem.
Thank you again!
Greg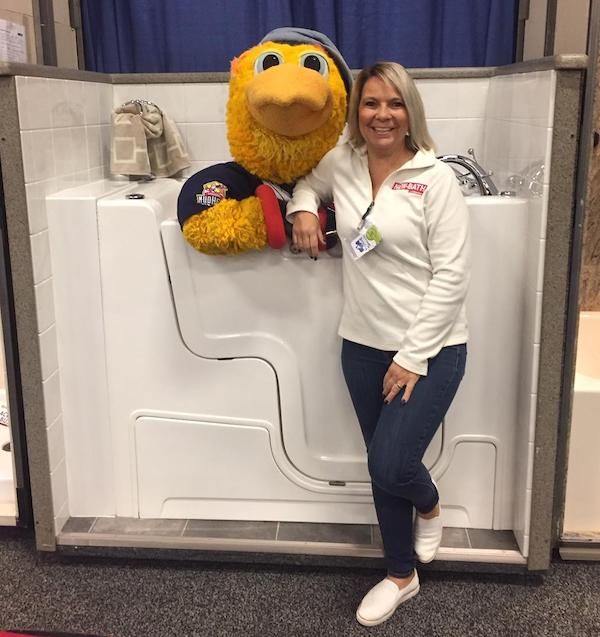 Paul Volmar,
I wanted to let you know I was very impressed by Justin. He did an excellent job and was very kind and courteous. Justin is the type of employee that you want working for your company. He expressed care and concern and I could tell he took his work seriously.
Sincerely,
Donna Q.
Gentlemen:
I would like to compliment your Company on the fine job your employees do. Your Salesman, Mike Spencer was very professional when he went over your products with me. He is very enthused about his job.
I can't say enough about Steve, the Installer. He was one of the hardest working men I ever had in my home. He really does a good job. He must be very tired when he goes home because he never stops working. He was so helpful to me and really did a fine job.
I will recommend your company to anyone interested.
Sincerely yours,
June M. E.
Dear Toledo New Bath,
Kurt, Mark and Reba, I want to thank you all for doing such a wonderful job. I am not exaggerating when I say the bathroom is 1000 times better then it has ever been and I've lived in this house my entire life. I am very glad that I went with the Toledo New Bath System instead of going with a new tub.
The whole experience, from the proposal from Kurt, making the selections at your showroom, the follow-up calls to and from Reba, and the work done by Mark, was pleasant and basically stress free. I could not be more pleased with any of this.
I especially want to say that Mark was very professional and helpful. When I came home at the end of the day, I could be sure that everthing he did during the day was cleaned up and picked up. His work ethics must be very high.
Again, thank you very much.
Sincerely,
Nancy M. L.
Dear Mr. Volmar,
We want to tell you how pleased we are with our "new" bath-tub and shower area. It is really beautiful. We show off our bath area to every visitor who comes. They too are stunned and agree that it has improved the look of the bathroom.
Thank you very much. I must tell you that Keith did a great job. He was neat, clean, and left the bathroom that way.
Thanks again,
Bob & Ruth K.
Dear Paul,
I'm ashamed that I haven't written before this to tell you what I think of the great job you and your helpers did in replacing my tub, etc.
Everyone who visited me marvels at the beautiful work done in redoing my bathroom and I cannot thank you enough for it. I will keep trying to find some new customers for you.
Happy Holidays to you and yours!
Josephine M.
Dear Sir,
Thank you for a beautiful job in my bathroom. I am very well pleased with the appearance.
I also wish to say that the young man, Destry Ransdell, who did the work for me was very efficient and courteous. He answered all my questions (some of which may have been stupid) and he never lost patience with me.
Again, thank you.
Sincerely,
Blanche K.
Mr. Volmar,
I just wanted to take this opportunity to thank you and your staff for a job well done! Kurt was very helpful in making decisions about our new bath tub. I appreciate the time he took from beginning to end. The installer, Keith, did an excellent job. He was courteous and professional. You should be proud to have such a customer-oriented staff. That is why you received our business and why I will recommend you in the future.
Sincerely,
Angela H.
Mr. Volmar,
Just a line to let you know we are well pleased with your product. It is so much easier to maintain, that I really like. We are well satisfied.
The guy you sent to install the tub was very knowledgeable, on time, and very fast. Our son may be calling you for an estimate; he was very impressed with your product.
Just wanted to thank you for a job well done.
Mr. & Mrs. David S.