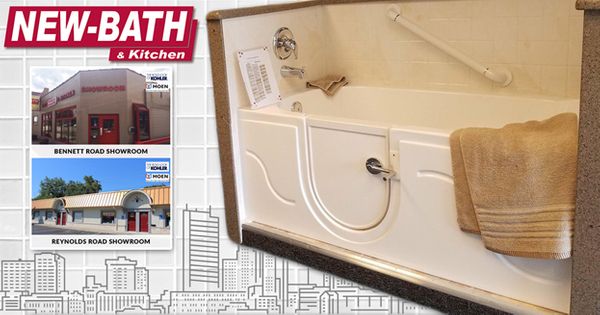 Why You Should Visit A Toledo Bath Showroom
Are you living in a home with an old, outdated bathroom? You probably want to remodel it so that you like it more and it functions better, right? But, how do you get started? Toledo New Bath can help in many ways! As a professional bathroom remodeler, you know you will get the help you need to create the space that you want (and deserve). We encourage you to stop in to either of our two conveniently located, locally owned showrooms and see how we can give you the bathroom of your dreams, without breaking the bank.
Finding The Right Options For Your Bathroom Remodel Project
You'll be able to get great bathroom renovation ideas from our professionally designed bath and shower models. During your visit, you can checkout the latest bathroom styles and colors. We have many products on display for you to choose from. Let our showroom room be an inspiration for your home improvement. Making your bathroom look great is what we intend to to do. We'll make sure your new bathroom is something you'll enjoy for years to come. We take great pride in helping our customers in any way we can. If have any questions, just ask one of our friendly and knowledgeable staff members for help.
Just Browse Around Our Showroom
Just browse around our showroom. No matter if you're looking for a complete bathroom installation or remodel, walk-in tub installation or safety bathtub / shower installation, we can show you it all. Come try out the products before you buy. It's important to make sure that whatever you choose will work for you and your family. We offer a no pressure sales approach that gives you an edge on finding the best items for you. You can even take the time to get measurements to make sure everything will fit! You will not be rushed in any way, shape or form when you look around our showroom. We want you to have all the time you need to make informed decisions about the items you REALLY want and will work best for your bath remodel.
We Have Walk In Tubs On Display
Do you want to know more about the benefits of walk-in bathtubs or shower enclosures for seniors? A walk in tub is ideally designed for older adults and come with great safety features. A simple shower conversion can give you the gift of a non-slip texture or material on the floor to prevent slip and falls. Come by and learn more about how beneficial these options can be for you or the seniors in your life. Make sure that you ask any questions that you might have about them. We are experts at what we do, and we will have the answers for you.
About Us
We have a qualified crew of professional sales associates and installation experts who have over 50 years of experience installing bathrooms. Most remodeling and installations jobs can be completed in a ONE DAY remodel. You will have your bathroom back in full service in no time. Plus, all of our installations are guaranteed with a limited lifetime warranty.
We're positive that Toledo New Bath & Kitchen is the right bathroom remodeling contractor for you! We're looking forward to assisting you during each step of the remodeling process. If you have questions. don't hesitate to call us at 419-470-8821 or you can visit our website at www.toledonewbath.com - But, the best way to get to know us is to come see us. We promise, you'll be inspired!
P.S. Don't forget to pick up a money saving coupon at the showroom!