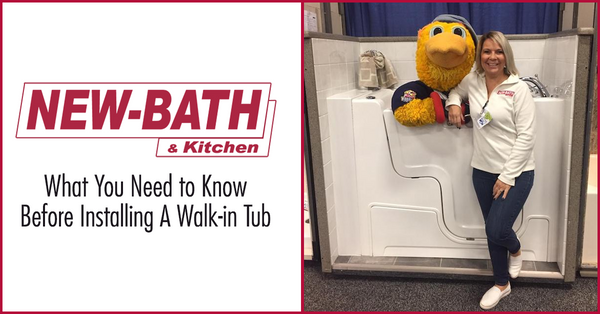 What You Need to Know Before Installing A Walk-in Tub
Are you ready to install that walk-in tub you've been considering? Is it the right time to take the leap and make the investment? Many wonder how soon they should get around to making that purchase and what exactly is involved with it. There are many options to choose from so you can get the tub that's appropriate for you and your specific situation.
We want to see you get a tub that will last for many years and give you the best bang for your buck. Since our walk-in tubs are built to last, we are positive you will reap the benefits from it for a long time. We stand by the quality of our products and the skill of our staff. You can count on us to help you through the process so that you can get exactly what you are looking for, stress-free.
We have passed this article on to you to help you become more informed on the benefits of owning a walk in bathtub, if it is time for you to buy one, and things to consider.
Features
We will help walk you through the different features that can be included in your bathtub so that it will be best suited for you. The CDC states that the leading cause of injury and death among the elderly is contributed to falls. If falls are of particular concern, then safety grab bars and anti slip floors would likely be a fitting customization for you. One of the other safety features is the easy access door that seals for leak-free entry and exit.
Other options bring comfort and convenience. Our heated seating adds to the spa like experience you can expect. The fast drain can quickly empty your bathtub so you aren't stuck waiting forever before you can open the door.
How to Choose Your Tub
The best way to decide on a tub is to think about what you hope to get from it. Do you need therapeutic relief? Are you in the market for something safe so that you can continue to live independently? Maybe you need both circumstances to be satisfied. Once you figure out your needs, we can help introduce you to options that work for you.
Where to Get Your Tub
Here at Toledo New Bath and Kitchen, our reputation has been built on the quality we deliver and the trust of our clients. We strive to bring excellent service and installation on products that keep you safe, make your life comfortable and stress-free, and give you many benefits for years to come. Give us a call or stop in to get a free estimate and get things rolling.
With two convenient locations in Toledo, Ohio, both locally owned our professionals are here to help you create the bathroom of your dreams. Both stores boast over 1100 square feet of renovation ideas, fixtures, and showroom displays to give you ideas, styles, and options you can see for yourself. Our friendly and knowledgeable staff will take the time to walk you through the process and answer any questions you have all without any pressure sales tactics. Our goal is to get you the tub that fits you and your family's lifestyle and budget. Our expertise is at your service online, in-store, or just a call away.