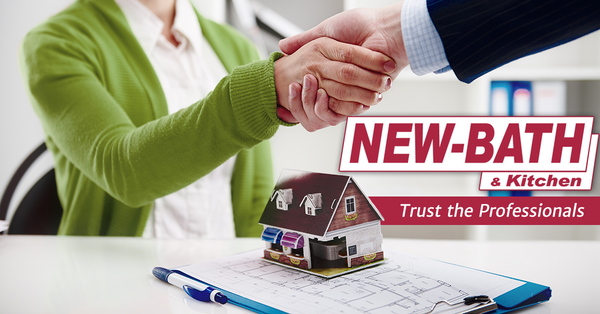 What to Look for Before You Consider a Bathroom Remodeling Company
Here we are, article number three in our bathroom remodeling series and we are still talking about hiring the right contractor. There's just so much to consider before you hire a bathroom remodeling company that we thought it was important to share these additional insights.
We can't stress enough that the very first question you should ask is how much liability insurance they carry. No matter how skilled or careful a contractor is, accidents happen.
That's why the State of Ohio mandates liability insurance for general contractors. The minimum amount of coverage required is $500,000 to cover injuries, property damage, legal defense, and product liability. For the purposes of a bathroom renovation, the minimum coverage is adequate.
The second thing you should look for is references, both professional and personal. Professional references should come from the local building inspector's office. Although residential remodelers and general handyman services are not required by Ohio law to get a license, the best place to get information about their business reputation is the building inspector.
The building inspector's office is where anyone doing a home improvement must check for a building permit. Not all remodeling projects need a building permit, but when you check with the inspector's office first, it can prevent you from hiring someone that has multiple complaints and unfinished permits. Some municipalities also require a general contractor to post a surety bond to cover the project.
Likewise, the last thing you want is a bathroom remodel stopped because the contractor did not get a required permit. Even when you have another bath in the house, delays can be inconvenient and unnecessary.
You can ask prospective remodelers for personal references or check their website for reviews or testimonials by clients. Of course, no one will post negative reviews on their site, so ask the Better Business Bureau (BBB), too.
Product Sources
Another thing you might want to clarify before hiring bathroom remodeling companies is where they will get the materials for the project. There are many local building supply warehouses and bathroom supply outlets in Toledo. So. there is no need to order supplies from a distant warehouse, which could delay the start of your complete bathroom remodeling project for weeks or months.
Toledo New Bath & Kitchen has two showrooms, one on Reynolds and one on the Bennett Road. You can browse for products for your new bath and be sure we have what you want in stock. Plus, you can ask our salespeople about available savings, or check our website for coupons and discounts.
Trust Toledo New Bath & Kitchen
Whichever bathroom remodeling company you choose, you must rely on them for technical advice and guidance. You must also trust their integrity to guide you in the right direction to complete your remodeling project within budget and on time.
Furthermore, make sure you will be comfortable with their staff. These people will be in your home and with your family until the bathroom rehabilitation project gets complete. It's better for everyone if there aren't any personality issues causing project delays. Remember, our personable, professional staff are always here to help!
We serve the greater Toledo area with nearly 40 years of experience in the remodeling business, and we have earned an A+ rating with the BBB.
Give us a call, 419-470-8821 for a free, no-obligation estimate for your bathroom remodeling. Or, send us an email, Info@ToledoNewBath.com.