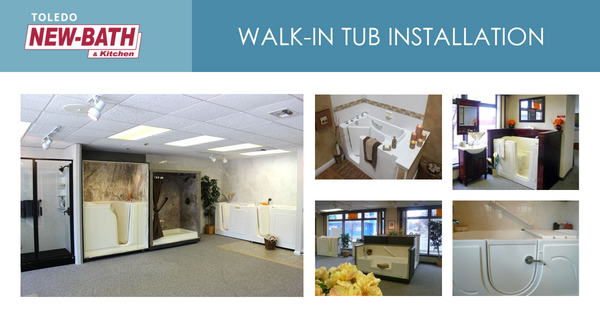 Walk-in Bathtub Safety and Experience Features Explored
As we get older it's no secret that we may be plagued with limited mobility and balance issues that can keep us from being able to stay in our homes safely. Consequently, the majority of the accidents that are likely to befall us will happen in the kitchens or bathrooms. Many more than we would like to admit.
One way to ensure the safety of ourselves and loved ones during this time is by installing walk-in bathtubs. These wonderful tubs offer the safety and security seniors and those with disabilities need to be able to bath safely and securely.
Many of the safety features provided by walk-in tubs are what makes them so popular for those with disabilities and seniors. They practically eliminate many of the issues that can make taking a bath so scary.
Anti slip Flooring - Slippery tub floors are the cause of many a bathroom accident. However, this feature also negates falling into the tub by those who would normally have to bend over the side to pick up bath mats to clean under them.
Grab Bars - The same concept that's employed by hospitals all over the world. These securely placed bars will assist in getting in and out of the tub.
Anti scald - Hot water burns account for almost 20% of household accidents. These devices will practically eliminate the chance of being burned by hot water. Moreover, they do it without the need of messing with the water heater.
Outward opening doors - This will provide an easier way of getting in and out. If the door opened inward it could block access to the entrance of the tub.
One of the reasons people enjoy a bath is the ability to relax and enjoy a soothing soak. Accordingly, many walk-in bathtubs come with a myriad of features that offer a spa like experience that has proven helpful in relieving aching muscles and sore joints.
Hydrotherapy jets or Air jets - Having a warm blast of water or air on sore muscles can feel like a message. It has also been recommended as one of the safest ways to alleviate the ache of arthritis pain.
Heated Seating - There is nothing to make a person more uncomfortable than sitting on a cold hard seat. With heated seats, you can sit comfortably while the bathtub fills to the desired level.
Massage Systems - This handy feature uses either water jets or an air jet system to blow bubbles that range from a soothing massage to akin to a deep tissue massage.
The other wonderful thing about them is the standard features they are equipped with. For example, the lifetime warranty will mitigate expenses if something does not function properly. Also, the fast drain feature keeps the occupant from getting cold while waiting for the water to properly drain before exiting the tub.
Taking a bath should not be the scariest part of the day, and with a walk-in tub, it no longer is.
Walk-in tubs are a specialty at Toledo New Bath & Kitchen. If you are having a hard time getting in and out of the tub, a walk-in tub may be the answer for you. Our sales consultants can look at your existing bathroom and determine how a walk-in tub can be added with little difficulty while maintaining the overall look of your current bathroom. We can also work a walk-in tub into the design of your bathroom remodel. At Toledo New Bath & Kitchen, we pride ourselves on making bathrooms more accessible to the residents of Northwest Ohio and Southeast Michigan.