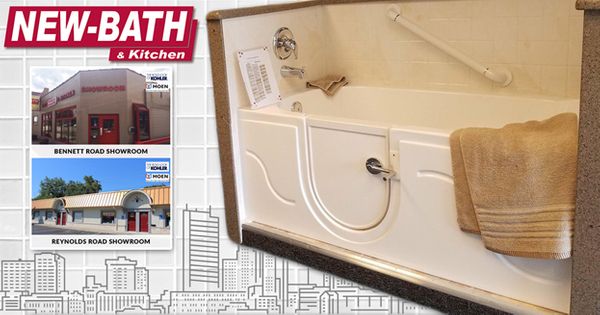 Toledo's Best Bathroom Showroom
Come see a large selection of displays including walk-in tubs and showers. We are the only affordable bathroom remodeler with 2 showrooms that you can come and see and check out our products!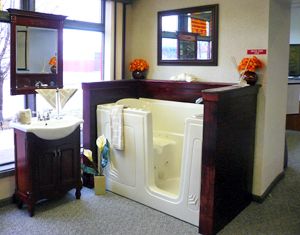 We have a variety of walk-in tubs and walk-in showers that can be seen and checked for your convenience. New-Bath offers seniors a chance to sit in a walk-in tub or shower or browse our many Kohler toilets, sinks, vanities and other bathroom accessories. We offer a complete bathroom remodeling experience while talking to a friendly, knowledgeable, and personable live person in our showroom!
We are a complete bathroom remodeling company with professional and knowledgeable sales representatives and installers! In choosing a bathroom remodeling company, you want to experience the fullness of not only seeing the products and talking with a knowledgeable and friendly sales person, but also being able to experience trying out the product and getting the feel for it before making a decision on your bathroom remodel.
As a homeowner myself, I know how important it is when searching for the right company to do any home remodeling, to have a showroom to go into and browse and talk to a friendly & professional person who understands and values me and my needs! It is so nice to know that I can take my time in choosing the right remodeler for me without any hard pressure sales tactics!
New-Bath has been around for years and offers no pressure sales experience. Our sales consultants greet you with a smile as you walk through the door. We listen attentively and access your needs all while showing you the variety of products available in the showroom for you to experience!
Give us a call today or stop by and experience our genuine appreciation for our customers and building bathrooms people love!