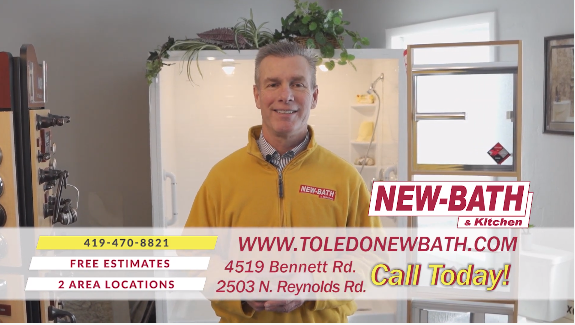 Great News here at Toledo New-bath!
Sadly to say there are no Spring Home Shows being held due to the pandemic BUT the Great News is we here at Toledo New-Bath are offering "private showings" either at your home or at one of our two showroom locations with great savings!
Our "private showings" will feature a variety of products available and an experienced, personable and knowledgeable sales person to personally take care of any of your bathroom needs!
With that we are offering you a savings of $1000 off any bath unit in February and March 2021! This would be our normal Spring Home Show Special that we are giving you with a personal touch! Our "private showings" can be set up by appointment with Linda, our Senior Home Safety Specialist at our new location at 2503 N. Reynolds Rd. and also our main location at 4519 Bennett Rd. Both have showrooms you can come in and see and try out the products, as well as get a private showing!
Don't wait too long and miss this incredible opportunity! If you are thinking at all about remodeling your current bathroom or just need some updating, now is the time to act while this amazing offer is available!
Even though you can't get rid of winter fever by attending one of the Spring Home Shows, you can get the same feeling by calling for one of our "private showings" and getting the personal VIP treatment.
Whatever your bathroom needs are we here at Toledo New-Bath are here to help! So call me or stop in our showroom and visit. I am here to greet you with a smile, answer any questions you may have, and show you the many options we have available for your bathroom needs!