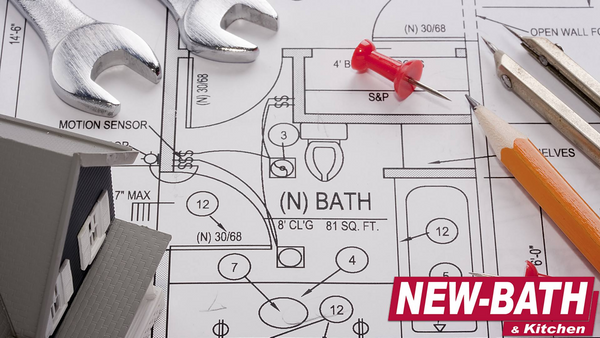 Bathroom Remodeling - The Facts and the Figures
According to Remodeler Magazine, a homeowner can recoup at least 66% of the cost of a bathroom remodel when the house is sold! So, what's keeping you from getting started? Maybe you just need a little more information about the process? Good news! This article, the fourth in our bathroom remodeling series, will further explore your options. There is always more than one way to get a job done. The key is determining which option is best for you. We'd love to help you with that!
Bathroom Remodel or Renovation
There is just a slight difference between bathroom remodeling and a renovation. A bathroom renovation is when the bathroom fixtures are either updated or repaired. When a bathroom is remodeled it changes the appearance of the bathroom fixtures or the structure of the bathroom. The cost of a bathroom remodel project varies from $3,000 to over $25,000. A lot of factors are taken into consideration, for example the size and the type of bathroom. Homeowners have many options when they remodel a bathroom and the total cost depends on your style and budget. The important thing to remember is that bathroom remodels provide some of the highest resale returns as a home improvement project.
Tub Refinish or Toledo New Bath
Another options is tub refinishing which is an arduous and time consuming project. The refinisher "cures" the tub using poisonous chemicals such as hydrofluoric acid for 4-5 hours. The entire process takes over 24 hours before the water can be turned on. The refinished tub will last from 3-5 yrs. If costs are a consideration, installing a tub liner may be a good choice for you. Although costs vary depending on the company, they begin around $850 and come with a lifetime warranty. Acrylic sheets are molded to custom fit the shape of your tub. The old drain and overflow are removed and replaced with a new drain and overflow. Toledo New Bath can install a tub liner in as little as 6-8 hours! In less than 24 hours you will be taking a luxurious bath in your new tub! A client of ours had an old 60"x 32"x18" white alcove with a left drain; she got a newly lined tub in million dollar marble and loved it. Instead of waiting 3-5 years for the refinished tub to wear out or subject yourself to various conditions that can void your warranty; you can get a Toledo New Bath tub liner with a guaranteed warranty.
Senior Tub Conversion
We at Toledo New Bath and Kitchen believe that senior citizens are the king or queen of their castle. Our professional remodeling contractors provide easy custom comfort in the form of senior conversions. We can install safety rails or replace your existing tub with a walk in tub... and walk in tubs are our specialty.
We at Toledo New Bath and Kitchen are the home improvement experts! Is creating a luxury bath on your to-do list? We will amaze and delight you with our dedicated workmanship in creating a beautiful bathroom with enhanced value.
Toledo New Bath and Kitchen can transform your bathroom into your dream bath like magic! Please give us a call at (419) 470- 8821 and give us a chance to amaze and delight you!